Marketing Tools Pro for WooCommerce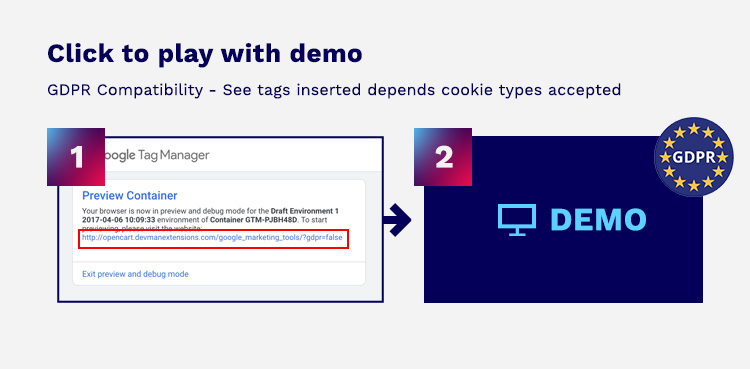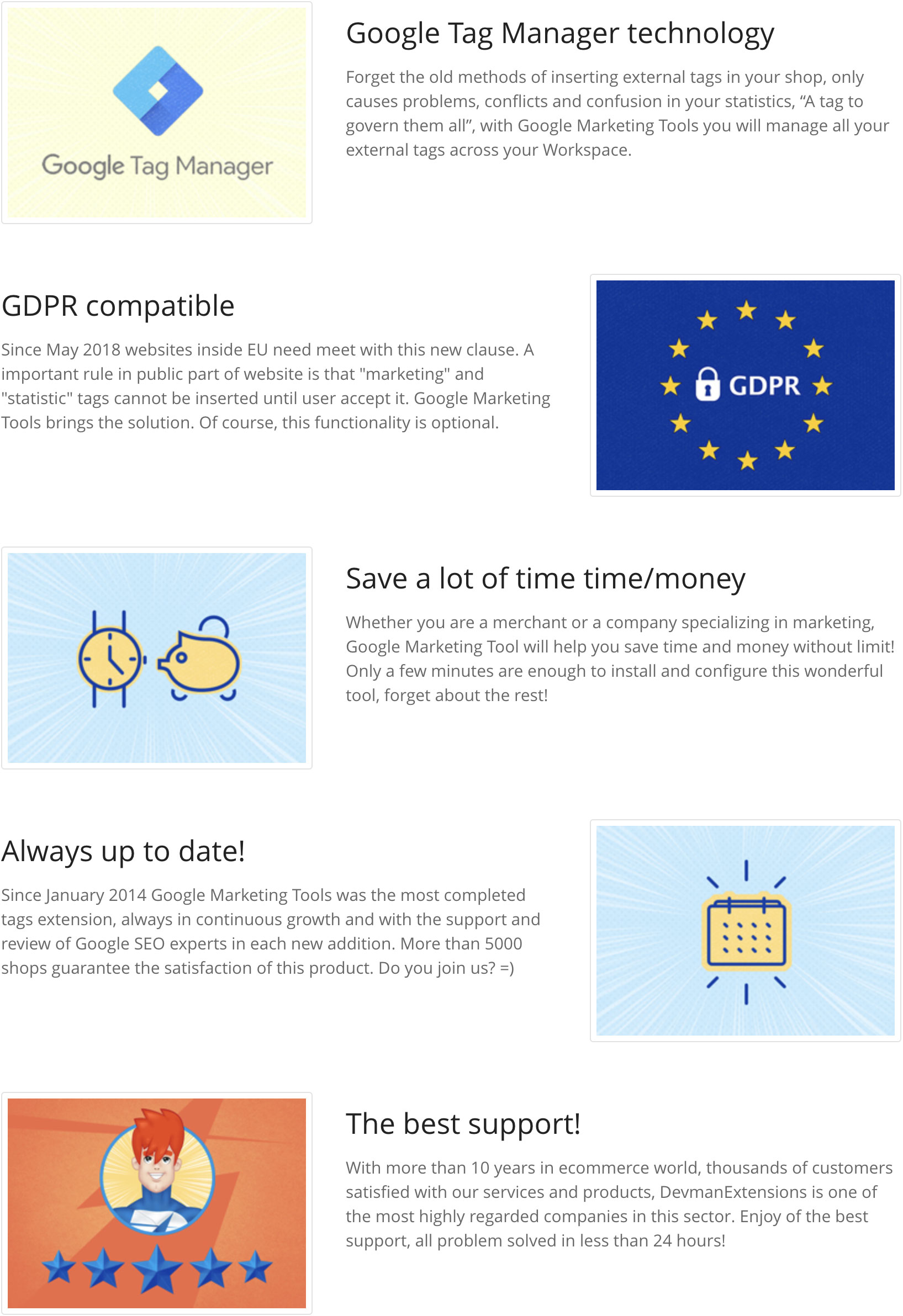 COMPATIBLE WITH GDPR (optional to shops that requires it)
★ Compatible with GDPR (General Data Protection Regulation)
★ Cookie alert bar & button configurate 100% configurable.
★ User can accept "Statistics" or "Marketing" cookies, inserting the corresponding tags in case of consent.
★ Button to show cookies bar configuration after save some cookie configuration.
★ If your country doesn't need it, simply not enable GDPR compatibility!
BENEFITS
★ The perfect "All in One". Discover the most complete Tags extension on Opencart.
★ Super easy install in 1 minute -> VIDEO
★ All tags are inserted in ONE UNIQUE CODE, forget old methods that cause a lot of problems and incompatibilities.
★ Forget purchase 1 extension to each tag that you want add to your store!
★ Include video tutorials.
★ Google Tag Manager – Last GTM technology
★ Google Optimize – To A/B testing
★ Google Analytics – Compatible with USER ID | Track pageview | Live events
★ Google Enhanced Ecommerce – Measuring cart events | Product & promotion impressions & clicks | Configure your own multi-channel funnel & more!
★ Google Ads (Adwords) conversions – Complete Conversion Tracking purchases | Negative conversions compatible
★ Google Reviews – Connect with your merchant center | Google Reviews after purchase order
★ Google Reviews Badge – Show Google Reviews Badge in different positions
★ Google Dynamic/Standard remarketing – Compatible with dynx | All views tracked | Set prefix or sufix to ecomm_prodid
★ Google Rich Snippets – Product details | Product user reviews | Validated by Structured Data Testing Tool – Google
★ Facebook Pixel – Track pageview | Add to cart | Add to wish list | Purchases
★ Pinterest Pixel – Full pages tracking | Cart event | Purchases
★ Hotjar Tracking – Full pages tracking
★ Crazyegg Tracking – Full pages tracking
★ Bing Ads conversions – Full pages tracking | Cart event | Purchases
★ Criteo OneTag tracking – Full pages tracking | Purchases
FEED GENERATORS – Multiple configurations
★ Google Merchant Center – Compatible with all countries allowed by Google | Google category taxonomy in all languages | Feed XML example
40 sales
as of March 2, 2021
| | |
| --- | --- |
| Last Update | March 30, 2020, 7:51 am |
| Categories | Ecommerce, Marketing, Woocommerce, Wordpress |
| Gutenberg Optimized | No |
| High Resolution | No |
| Compatible Browsers | IE8, IE9, IE10, IE11, Firefox, Safari, Opera, Chrome, Edge |
| Compatible With | WooCommerce 4.3.x, WooCommerce 4.2.x, WooCommerce 4.1.x, WooCommerce 4.0.x, WooCommerce 3.9.x, WooCommerce 3.8.x, WooCommerce 3.7.x, WooCommerce 3.6.x |
| Software Version | WordPress 5.5.x, WordPress 5.4.x, WordPress 5.3.x |